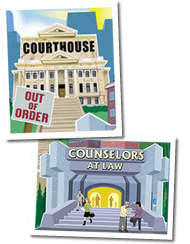 The term "counselor at law" has historically meant
"attorney" or "lawyer"
Some lawyers now use the term counselor at law to describe a law practice that provides legal counseling as an alternative to the traditional litigation practice.
It's a new use of the phrase "Counselor At Law," one that emphasizes legal counseling by licensed attorneys who can provide a wide range of legal services (other than litigation) aimed towards eliminating the need for court.
Because the cost of running a traditional litigation practice is factored into an attorney's hourly rates, legal advice has often been too expensive for many kinds of problems. By escaping the high overhead of a traditional litigation practice, and by adding the effective strategies of negotiators and mediators to their repertoire, a Counselor At Law offering services besides litigation can often help the client solve legal issues quickly, sensibly and affordably.
At a minimum, a one-hour, confidential conversation with a Counselor At Law will increase your understanding of your legal situation and could save you a lot of future heartache.
Why Should You Start With Counseling At Law?
Litigation can be perilous and filled with costly surprises.
Once in litigation, parties can become disillusioned with the process (and often with their lawyers) and are sorry they started down the litigation path. Because every dispute begins with decisions that are made before conflict arises, early guidance in the form of legal advice can be the best way to avoid any need to go to court. And even after parties are in the middle of a dispute, court could still be avoided with the right kind of legal advice. With over 20 years of experience as a litigator, Counselor-At-Law Janet E. Sobel, Esq. stands ready to help counsel you towards staying out of court. She charges only $100/hour for basic legal counseling services.
In 1983, Janet E. Sobel graduated from U.C.L.A. law school in the top 10% of her class and has been practicing law in San Diego since becoming licensed that same year.

Ms Sobel was a litigator in the "law firm" setting until 1999, when she decided she wanted something more fulfilling than an active litigation practice. By working out of her home, Ms. Sobel found she could eliminate the high cost of a traditional law firm practice and reduce her rates, thereby providing affordable "counseling-at-law" services to her clients. Thus, Ms. Sobel helps her clients address a wide range of legal issues in an economical way.

In 2004, she successfully completed the rigorous mediation training program offered by the National Conflict Resolution Center in San Diego and was awarded a credential as a mediator.

In addition to her law career, Ms. Sobel taught elementary school (in California and then Nevada) from 1965 through 1969, was elected to public office in Las Vegas in 1976 (defeating a 10-year incumbent to win a school board seat), and was a top-producing real estate agent in Nevada in 1978-1980 (before entering law school).